265 Images of Northern Rocky Mountain Wildflowers
Our sturdy folder is protected with a heavy plastic laminate measures 4" x 9". The folder contains 265 images of northern Rocky Mountain wildflowers. Each is is large enough (1 1/2" x 2") to show clearly images of mountain wildflowers found in the ranges that make up the American portion of the Northern Rocly Mountains (an ares extending roughly from the Snake River to the south, north to the Canadian border.
$8.95 postpaid
Order direct: You may order the lalminated folder 265 Images of Northern Rocky Mountain Wildflowers by mail from Larkspur Books, 2440 N. Bogus Basin Rd., Boise, ID 83702. Make check, or money order payable to Larkspur Books. We also accept Paypal (phone 208 344-0079) .
Order electronically: Contact us online at larkspur1@cableone.net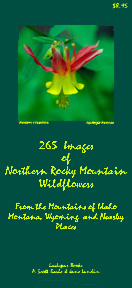 Discounts available for quantity purchases.